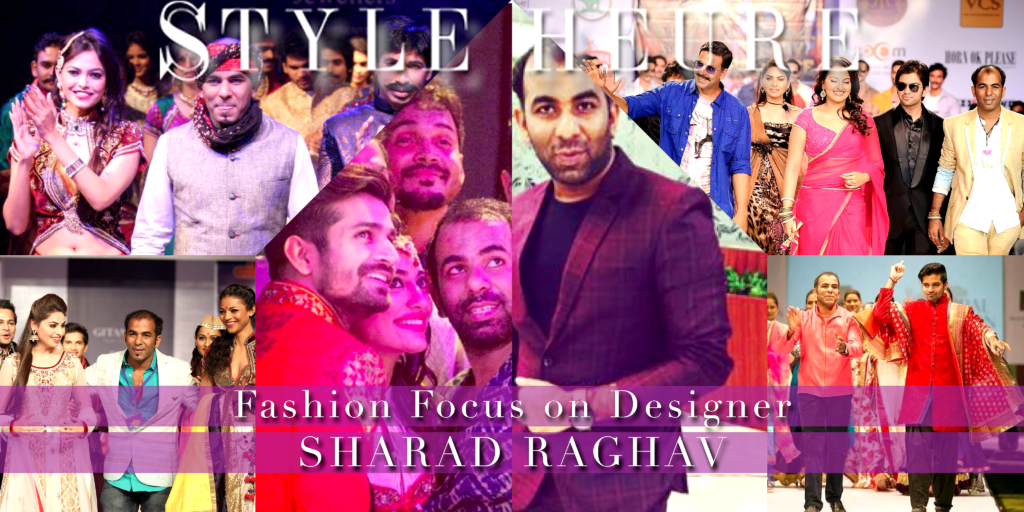 Sharad Raghav is an outstanding Indian fashion designer. He stems from the Royal city of Rajasthan. The rich heritage and culture sparks Royalty, Romance, Spirituality and Nature across his designs. By his immense creativity, handwork as well as his "Sui Generis" philosophy and ideas, this line seeks to prevent the extinction of the heritage fabrics and "Sui Generis" persona and traditions. Sharad's talent and his visually creative runway shows have ensured that the brand remains strong and viable in today's world. He was a science graduate on the path of becoming a doctor but fate had other "DESIGNS" for him.
His creative characteristics fostered as he indulged in his passion for colours in his drawings and paintings at school, his home piled up with awards and winning trophies of his artwork. Art became his favourite pastime and sparked an interest in a career in fashion design. He was committed to bringing his dreams to life. It's this special breed of determination that has made SHARAD RAGHAV a globally adored brand in just a few years, all the while maintaining that India-cool reputation. In subsequent years, he worked in various roles in the fashion industry. His highly innovative style and personal taste in fusing jewellery and textiles together with blend of rich colors, unique patterns, and tactile textures with a simplicity of design, brought him to the forefront of jewellery houses like Gitanjali, D'damas and Agni. He was the one who designed the ghagra choli for Natasha Suri at the Miss World 2006 Pageant and also worked out designs for cover shoots of Femina, Women's Era, Cineblitz and Rivaaz. His portfolio includes being part of the Agni Diamond Show, Tahiti Pearls Annual Show, Atharav College of Fashion tie up with the Milan Fashion School, Diamond Show for DTC, etc. He also had one of the Sahara Star Ad Campaign, styling for the Indian Television Awards (ITA) and Star Parivaar Awards in his bag. Sharad Raghav's brand has grown steadily since he officially launched his first collection in becoming a staple for luminaries such as televison and bollywood celebrities.
His designs are unique and have been featured in many television shows after he entered into an alliance with Bollywood and Indian Primetime Television. He has participated in shows such as the Bangalore Fashion Week, Jaipur Fashion Week, Pune International Fashion Week, Hyderabad Fashion Week and Rajasthan Fashion Week.
As Sharad rose to fame in the age of the space race, his creations took on an air of futurism. His Raas Leela creations had all the fixings of royalty, beauty, feminism, combining earthly elegance with out of this world colors inspired on the life of a woman, most specifically Radha Rani. The showstoppers for this event were television actors Anita Hassanandani, Vishal Singh and Smriti Khanna.
Sharad Raghav was the first to introduce power dressing for women and men in the form of dressing up and styling for TV personalities. The stylish Indian fashion designer's brand of effortless chic is practically a uniform for models and movie stars in the know. He developed a line of clothes that has become incredibly popular among the Indian television fraternity. He has designed for many popular TV Stars including Arjun Bijlani and Manish Raisinghan recently for the Colors Golden Petal Awards and Vishal Singh for the Star Parivar Awards.
Sharad is also known for his design acumen for the kids line of clothes and he launched his latest collection "Laali", all in red, at the India Kids Fashion Show (IKFS) 2016, for a noble cause. Laali is symbolic of the colour red, which adds a myriad rays of life meanings in a woman's life, representing womanhood and a term traditionally used for a girl in India.
He is renowned for utilizing minimalist to lavish designs, to couture techniques, hand painted materials, intricate embroidery and embellishments, to achieve a traditional style with modern influence. Fashionistas and clients attribute his remarkable presence to his style, silhouettes and colors in the pantheon of fashion.
Today, Sharad shares his fascinating story, from his life changing stint in India to his brave career switch, his design inspirations to his responsible manufacturing practices. We know you're just as thrilled as we are to get the inside scoop!
DESCRIBE THE JOURNEY OF CREATING YOUR FIRST PIECE?
Wow! This takes me back thirteen years ago. I remember my first job ever was Lingerie, to create nightwear. (Laughs) that sound funny but it's true. I designed a very short red one piece nightwear, which had silver stickons and diamond motifs. It was a bit tough and awkward for me, being new to the profession, but I overcame all criterias and landed the job. It was for the store called Pink Pearl, exclusive for Lingerie and Nightwear, in Kamla Nagar, Delhi.
TELL US ABOUT YOU DIFFERENT COLLECTIONS AND WHAT WAS YOUR FIRST COLLECTION?
My first collection line was "KRISHNA", which was showcased at the Bangalore Fashion Week 2010. I used and experimented with all colours relating to Lord Krishna, be it shades of blue, red, green, yellow, pink, in fact I used nearly all the colours. It was one of the most appreciated collections and was featured in the London Times.
One of my recent collection is the summer resort line theme "KALEIDOSCOPE". White is the base colour with lots of bright prints inspired by Kaleidoscope. I'm a very bright and colourful person when it comes to designing, so I use lots of colours but in a subtle and not too loud way.
WHERE DO YOU FIND YOUR INSPIRATION (FOR YOUR DESIGNS AND OUTFITS)?
The question is more like what does not inspire me to create. There is nothing in particular which inspires me because inspiration to me is limitless. I feel when I'm not designing, I'm creating something and my mind is always grabbing inspiration from within me, in everything and anything around me. I have a fierce competitive streak within me, when it comes to my designs. So basically inspiration is life and divinity.
HOW HAS YOUR WORK EVOLVED SINCE YOU BEGAN YOUR OWN LABEL?
When you start your own label your work becomes more exclusive, more unique and more non-commercial and you start making master peices. When I worked with other fashion brands, they all stuck to quantity and quality and not exclusivity. They produced mass. But once I started my own label I became exclusive with a class apart. It's more responsibility more pressure, but I love it. However, some of these beautiful garments take months to complete. This is not exactly following today's fast paced fashion world, you must be able to work and grow as a fashion label and that experience also made me realize the power that clothing has, in that you can control how you are perceived and what you communicate. Clothing is a language all of its own.
WHO IS YOUR FAVOURITE CELEBRITY YOU'VE DRESSED AND WHY?
My favourite celebrity is Vishal Singh of the famous televison serial Saath Nibhana Sathiya. He is very experimental with clothes and allows me the liberty to design and create for him at my own personal best and he carries of my designs with confidence.

WHAT IS THE BIGGEST LESSON THAT YOU HAVE LEARNED SINCE YOU STARTED YOUR CAREER?
To be honest, real and confident with myself, but not over confident.
IS THERE ANY PLACE IN THE WORLD YOU HAVEN'T BEEN YET BUT WOULD LIKE TO VISIT FROM A PROFESSIONAL PERSPECTIVE?
Yesssssssss my dream cities are Milan and Paris!!!
IS THERE SOMEONE IN THE FASHION INDUSTRY WHO INSPIRES YOU?
No, I have my original inspiration but I love and have utmost admiration for our nationally and internationally acclaimed designers, Rohit Bal, Sabyasachi and Anju Modi. On the western front, the international designers I love are Dior and Alexander McQueen.
HOW WOULD YOU DESCRIBE YOUR PERSONAL FASHION STYLE?
In character, in manner, in style, in all things, the supreme excellence is simplicity. I am a very simple guy and and I feel comfortable in simplicity, my personal style is a mixture of blue jeans and T shirts, casual shirts and converse. If the need calls and I am dressing up for an occasion, a smart suit or something trendy is perfect.
WHO ARE YOUR FAVOURITE STYLISH CELEBRITIES AND WHAT IS IT YOU LIKE BEST ABOUT THEIR DRESSING?
The stylish female celebrity will be Sonam Kapoor, because she loves fashion and styles, and dresses like a diva. She knows what suits her and wears her clothes according to the occasion or event she is attending. Overall she carries everything very gracefully and elegantly, whether it is Indian or Western wear.
The stylish male celebrity will be Vishal Singh, as he carries himself very naturally, be it formal or casual chic. He is never afraid to take risks and loves playing with his look. He has a polished look and embraces smart casuals very well.
STYLE HEURE Exclusive!
A CELEB YOU HAVEN'T DRESSED YET BUT WOULD LIKE TO?
Without a doubt it will be Amitabh Bachan. He does not need to find style, style finds him. He is the perfectly polished superstar. He has a great presence both on and off screen. He has his own unique style and energy and his own spirit. He has a huge zest for life which is infectious, and he appeals to all generations, from a five year old to an eighty year old. He can be elegant, royal and cool too.
TELL US ABOUT YOUR STORE. WHAT'S DIFFERENT HERE? WHAT SHOULD YOUR CLIENTS LOOK FORWARD TO?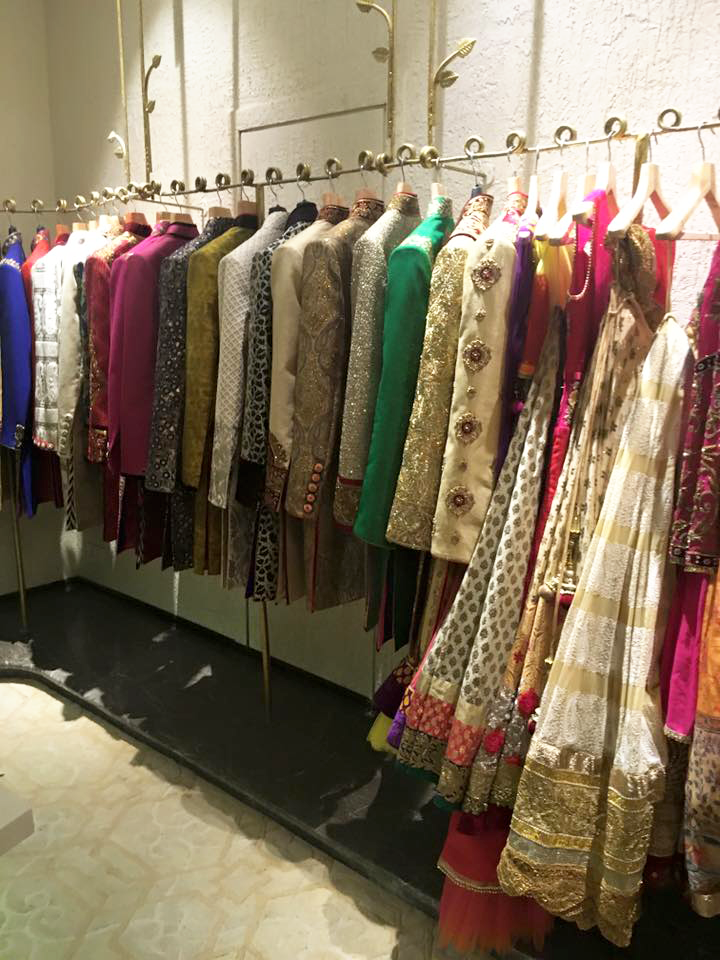 My store is a place were people can look forward to shopping with us. There is always something different in the store. My clients are always waiting for my new collection or updated designs and they are able to keep a track on a regular basis of what's new at the store. An unpleased customer today can cause more damage to a brand, so I take it personally upon myself that clients are happy and pleased with whatever they need and have chosen. We want to provide locals and visitors with the best shopping experience we can and we look forward to serving them even better at our beautiful store. I have received numerous compliments about my store from clients who say that the ambiance at the store is so peaceful , it has an air of positiveness and enchantment. Clients can look forward to some wonderful cuts and styling and lots of vibrant colours. The store's fashion caters for both men and women.
WHAT'S NEXT FOR YOU PROFESSIONALLY AND WHAT WOULD YOU LIKE TO ACHIEVE BEFORE THE END OF THE YEAR?
Few shows are lined up, and I'm working on that. There are so many goals I have to achieve but the list is long and this space is not enough to list them all.
WHAT'S YOUR AIM?
My aim is to count myself as and get listed in India's top designers list. At the same time to give my family the best lifestyle.
BREAKING INTO THE FASHION INDUSTRY ISN'T N EASY FEAT, WHAT ADVICE WOULD YOU GIVE TO UP AND COMING DESIGNERS?
No. it's not at all easy, especially if you are not born with a silver spoon or Godfather. My advice to upcoming designers is to be honest to yourself and your work, be original and remember that every person you meet on your journey, will teach you something, so keep adopting nature, and know that no work is too small or too big. All is work when you have to chase your dreams and targets. Work hard till the time you get and achieve what you want and if things are not in your fate, let them happen, make it happen. I quote Lord Krishna "Karm pradhan hai kismat nahi…katam karega toh woh mega jo tujhai cahiye yaa usai jyada or agar kismat kai bharose rahega toh sirf urha he milega jitna teri kismat main likha hai". This means work is first, if you work you will get what you want and more than that if you wait for luck then you get only and only what ever is written for you, that's it.
Stay updated and Follow STYLE HEURE on:
Facebook: www.facebook.com/STYLEHEURE
Twitter: www.twitter.com/STYLEHEURE
Instagram: www.instagram.com/STYLEHEURE and www.instagram.com/Yutibeauty
Youtube: bit.ly/1lYsGRd
MORE PICS