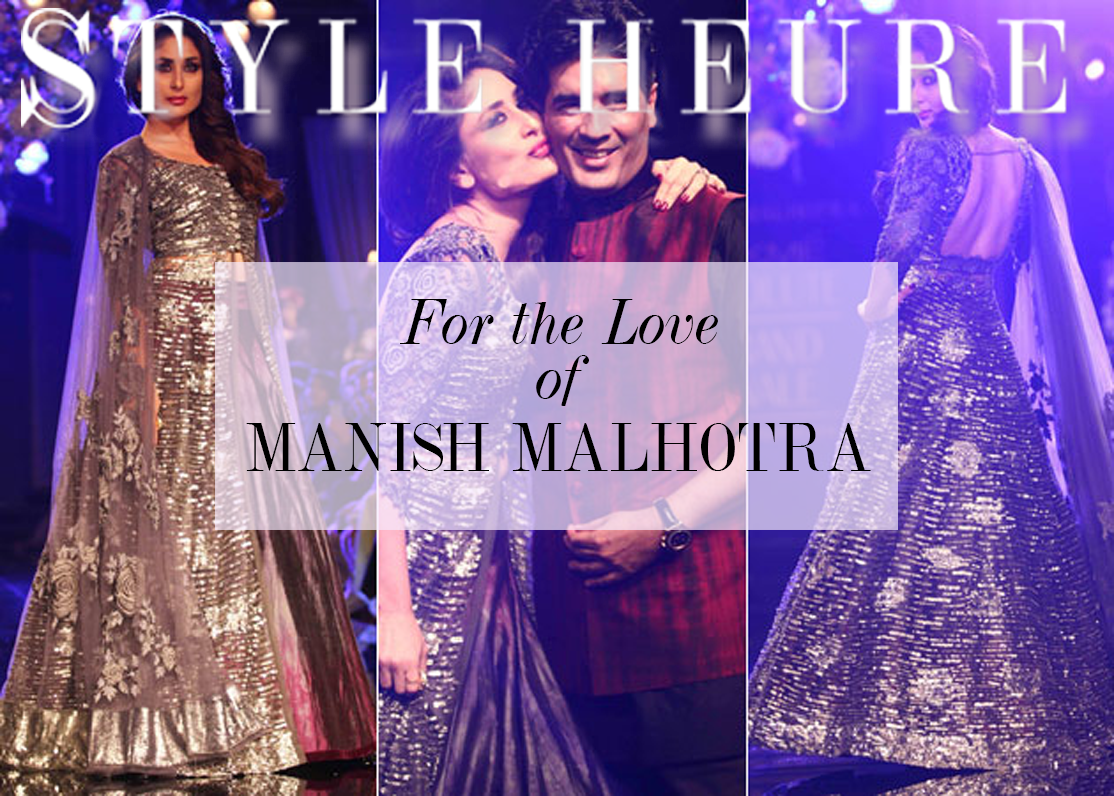 As I write this article, my excitement levels cannot be measured! The excitement comes from my own enlightened desire, writing this article for my Blogazine, STYLE HEURE, spotlighting and featuring my most favourite designer in India, Manish Malhotra.
They say one has to have a signature in life, a calling card uniquely your own. In the case of one of my favourite designers, Manish Malhotra, that old axiom couldn't be more true. He is one true fashion force.

When one speaks of class in fashion, Manish Malhotra tops my list! MnM, as I like to call him, is known for his luxurious, jet-setting fashion, creating clothes that range from minimalism to maximumism. He has broadened the definition of beauty with his stunning sensual creations, helped transform fashion into entertainment and models and celebrities into personalities. Manish Malhotra's fashion shows never fail to create a significant buzz, and one such buzzing moment, which influenced me the most was when I first discovered Manish Malhotra, back in 2005. I knew that his charismatic outfits were a meant to be. Every outfit of his is a statement and it seemed like each one was the exact one I was looking for. Ever since then, Manish Malhotra became my most favorite-iest favorite designer!
The key word I always tag with MnM is "FAVOURITE" and the reason behind this is:
When MnM presented his collection "The Gloss" at the Grand Finale of the Lakme Fashion Week Autumn/Festive 2014, none other than my "favorite" Bollywood actress, the gorgeous Kareena Kapoor was the showstopper. Kareena looked stunning as she walked the ramp in a beautiful purple, grey shaded metallic lehenga teamed with a sparkly open jacket and a beautiful, embroided net chunni. And side by side with my favourite designer and favourite actress was my " favorite" director Karan Johar, who was one of the attendees of the show! All in all this was the best reflection of a super fab moment…..all my favourites together, being the spotlight at the Grand Finale of the Lakme Fashion Week. Needless to say, many other fashion extravangazas followed with aplomb.
Paris, one realizes, was one of the only places where real fashion existed for decades and decades but Manish Malhotra has taken the decades out of Paris and made India the Fashion Show Stopper to the World. His masterwork is now the class of fashion trends.
Fashion Design Council of India's (FDCI) six day India Couture Week 2015 (ICW) will be hitting the ramp soon and this is most eagerly awaited, as my very favourite designer Manish Malhotra will be show casing his yet to be named creations.
Dress to impress is a thing of the past, but rather dress to trend is the thing of the present…My and Kareena's favourite celebrity designer, Manish Malhotra creates the perfect look and he has indeed set the buzz for the trend of the chic ethnic/authentic look wear designed and styled for the stunning Kareena Kapoor in the much awaited movie of the season "Bajrangi Bhaijaan". The lovely actress has donned the desi look in many films, but she tends to impress us yet again with her sophisticated ethnic avatar in Bajrangi Bhaijaan. Kareena's colourful floral printed kurtis, anarkalis and beautiful contrasting dupattas in the movie, makes us fall in love again and again with that subtle, but yet elegant luscious desi look. The gorgeous actress shows her versatality as she carries off her favourite designer's creations with equal dignity and style.
Manish Malhotra is one of the most sought after designers and is continuing his thriving career as a Fashion designer in India. You can always follow his tweets under the easy-to-remember name @ManishMalhotra to keep up with the latest news from him and his fashion house.
"FOR THE LOVE OF" on STYLEHEURE.com is a series of my personal favorites that I look forward to sharing with you guys…..from designers to chocolates to makeup, cities, and everything else that I love. Subscribe to WWW.STYLEHEURE.COM and follow me on the Social Apps Scene to stay updated!
Twitter: www.twitter.com/Yutibeauty
Instagram: www.instagram.com/Yutibeauty
Facebook: www.facebook.com/Yutibeauty
Youtube: goo.gl/IHgDRF