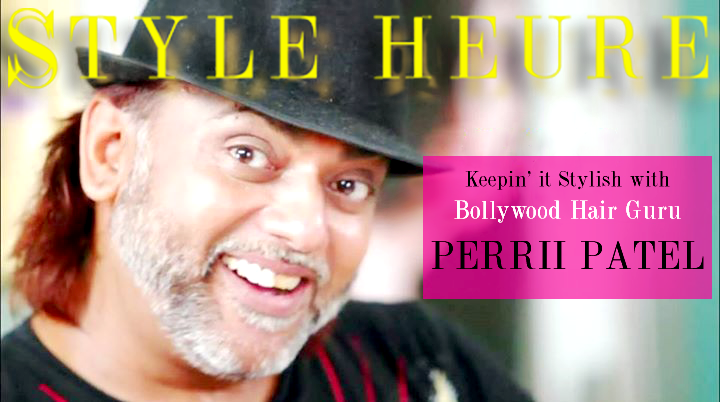 Gujarati Indian, Kenyan-born Hairstylist Parimal Patel also known as Perrii Patel, the son of Hasmukh Bhai Patel and the late Shardaben, grandson of the late Punjabhai Patel, an Indian officer in Kenya Port 1922, started his career in a small salon and is now one of the most sought after stylists in the industry. He has been living in Mumbai since 2000 and has worked with celebs, fashionists, designers and loads more. Over the four years I've known Perrii, he's always been a loyal friend, modest, humble, caring and one of the most positive, lovable persons I've met. He travels all around the world styling campaigns for Lakme in the year 2000, Hairdressers Journal UK and the list goes on! Known for his unique ability to meld old school beauty with up to the minute trends, Perrii has styled hair for some of the most glamorous and trendsetting stars from the small screen to the big screen: Akshay Kumar, Kareena Kapoor, Hrithik Roshan, John Abraham, Shahid Kapoor, Celina Jaitley, Sushmita Sen, Esha Deol, Urvashi Dholakia, Gautam Rode, Chetan Hansraj, Moulli Ganguly, Karishma Tanna, Gurpreet Singh, Samir Soni, Rakshanda Khan, Pravin Siroi and many more. He's the hair designer of some of your favorite films…..Mujhse Shaadi Karogi, Kehta Hai Dil Baar Baar, Cash, Bewafaa, Kick and so on. And yes, he is the genius behind the rocking Randeep Hooda's hairstyles in movies. Totally loved by those who know him, read on to get to know The Hair Guru who creates some of Bollywood's most glamorous moments.
What made you decide to become a hair stylist?
My Godmother Salma Kara Palmer owned the best-known School of hair design and hairdressing in Kenya. I was so much in awe with the way she worked and what she did, that some days I would skip classes and bunk school, just so that I could have maximum observation of all the cutting and hair styling of some of Kenya's most upmarket and well known clients that came to her Salon. I learnt everything from her and I also most humbly acknowledge that it is Sai Baba's gift.
How did you get your start in the Bollywood industry?
At the time when Kenya was a select destination for many Bollywood film shoots and shows many of the film shoot crew would approach me to do their hair. Since then I was bitten by the bollywood bug and thus my journey started with the industry.
What was your first project and when did you know you'd made it in the film industry?
It was for the movie Kehtaa Hai Dil Bar Bar, shot entirely in the USA and directed by Rahul Dholakia. I had a role and acted in the movie as Prem, alongside Kim Sharma and Jimmy Shergill. My first scene shot was with Paresh Rawal and Johnny Lever. I had the pleasure of working with the stars as well as styling them. I then had the opportunity of styling Akshay Kumar for the movie Bewafa, Mujhse Shaadi Karogi etc.
 Big opportunities comes in small packages and thereafter I had my grip on the film industry.
What was your most stressful moment?
The most stressful part of the business is when all the famous celebs want their appointments at the same time and same day. You don't want to miss out on an opportunity and you also want to please all your clients. I have done minimum, twenty one celebrities hair in a day.
Which iconic hairstyles do you love (both East and West)?
The style statement of Bollywood actress Sadhana called the "Sadhana cut", her famous fringe.
The signature style of Marilyn Monroe's short, blonde vintage curls.
Today these hairstyles are copied with slight modern updates for the biggest events and therefore vintage elements frequently appear on the runaways of fashion shows and films too.
Who is your ultimate style icon?
Brad Pitt…..Follow some style cues from him and you may just end up being as universally appealing as he is. Brad has a way of always looking polished and he possesses the impressive ability to bring a natural style to everything he puts on. No matter what the occasion, he seems to exude style and confidence.
What are some of your favorite looks you've ever created?
The funky look styles created by me on ten different models in one minute for the reality Show Entertainment Ke Liye Kuch Bhi Karega (check the video out on STYLE HEURE TV).
My latest fave look is on Randeep Hooda for the movie Main Aur Charles. Randeep gets a classic look depicting, replicating the life circumstances, mannerisms and emotional feelings of the character he portrays in the film. He embraced the role so completely, that he looks a natural fit into the role.
When and how did you start styling Randeep Hooda and what's it like to work with him?
My working with Randeep Hooda goes back a long way, as I have done his hair for the past 14 years. I have cut and styled his hair and my assistant used to maintain his hair, until the time of the shoot of the movie KICK started, I continued personally to style, cut and groom his hair on the sets.
Need I say anything about what's it like working with him. It really depends on the nature of the relationship we share with each other for he's my Ram and I'm his Laxman. Divine blessings…Om Sai Ram! Pleasure is an affection of the soul, and each man takes pleasure in that which he is said to love. I pray that what he deserves as a human being, he gets abundance of love and the energy to always keep him moving forward in life.
What inspires you and who inspires you?
My Spiritual self and God Almighty. Whether you're religious or not, the idea of God breathing inspiration into the depth of our beings is a beautiful one. It not just lifts me up, but makes me feel good, enthusiastic, excited and that's when I create something of truth and beauty. I don't know what He has in store for me, but I always go with the flow of Divine energy and Love. God knows best, I'm just a human being.
How you do you keep up with trends?
When it comes to keeping up with trends, there are so many options. With internet and technology, I don't miss a thing. I also travel the world and keep up with the global trends. Last but not least, that gut feeling, divine art from my hands to all the lovely souls I style.
Who's your favourite photographer you've worked with?
The internationally acclaimed fashion photographer, Ram Shergill from England.
What's your Style Mantra?
Style is an extension of one's personality. Be an original…..It's easy to get billions of styles out of zillions of hair growing on the crown…..Love always, Perry Patel.
You've styled and known Urvashi Dholakia for 20 yrs and the pixie haircut was loved by all…..what can you tell us when it comes to styling her?
She is my Style muse. She lets me cut, colour and style her hair with unconditional love.
So next time you're looking for a perfect hair style, head over to Perrii the specialist, who can give you a charming look for any event or occasion.