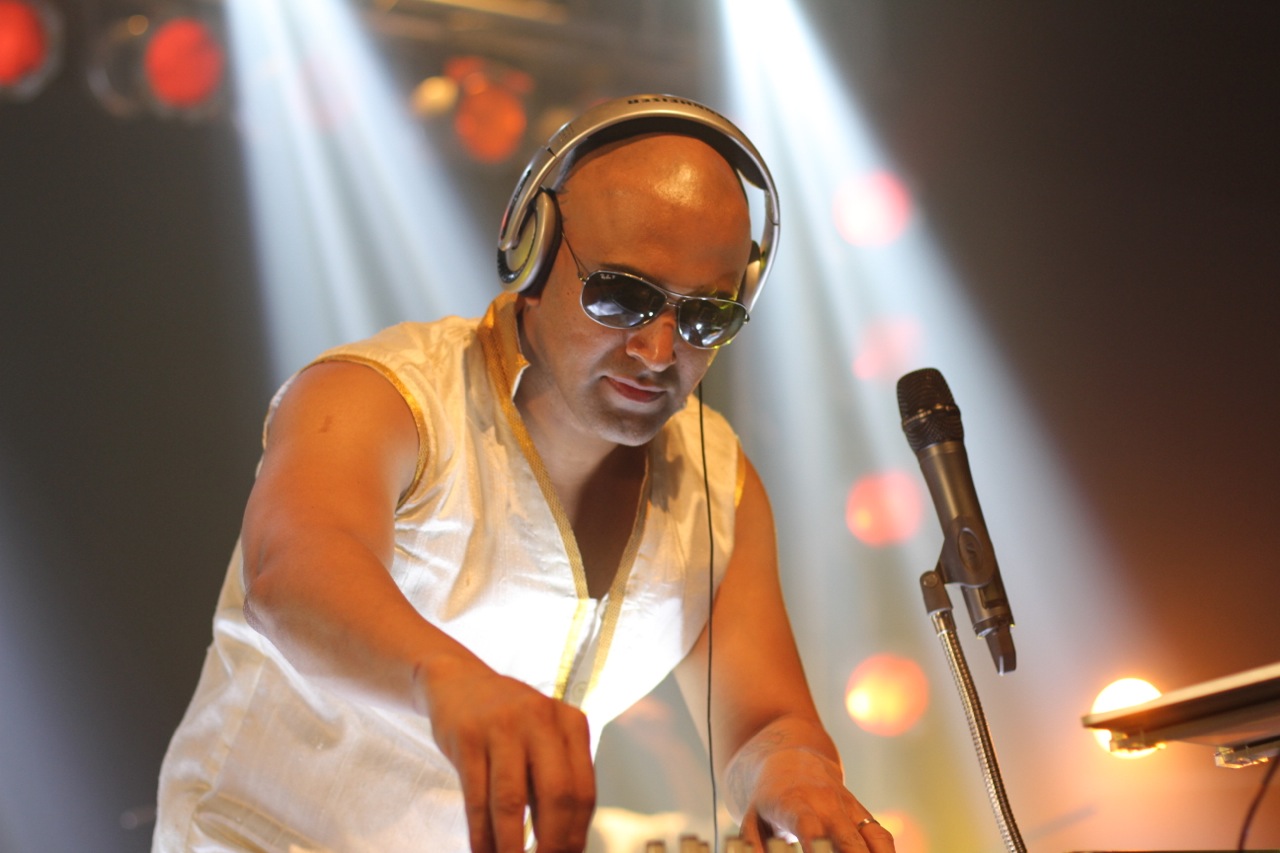 Sherrin Varghese, one of the most talented singers, artists, songwriters, musicians, producers & spin doctors, is truly a man of many talents! He is the total package, good looking, well educated, an excellent songwriter, composer, performer…..all in all a great person and a truly high-energy individual with a terrific sense of humor too! 
He's been a member of the all-male band "A Band of Boys" and is also popularly known as Cherokee. A Band of Boys was formed in 2001 with Sherrin Varghese, Karan Oberoi, Sudhanshu Pandey, Siddharth Haldipur and Chaitanya Bhosle. With ABOB he released 5 albums & 1 Bollywood film & before that he was part of Shekhar Suman's "Movers and Shakers" and gained popularity as the front man of "The Rubber Band" on Sony Entertainment Television right at the start of his career in the late 90's.
The Mumbai based Indian musician, singer-songwriter, composer, producer & actor, Sherrin Varghese; has captivated audiences with the fantastically layered and incredibly rich sounds he has created. He is a seasoned professional when it comes to impressing the music industry and his catalogue spans various genres: Indi-pop, Bollywood, Live Electronica, [idm], PsyDM, Glitch Hop, Dubstep, Sci-fi soul, Bollytronica, Deep House, Tech House, Progressive House.
When he begins to sing & spin he infects the audience with the energy of his enthusiastic performance. His unique style of Live Electronica grips his audience in a hypnotic sway. The shaping of the party is totally under his control as he interacts with the fans and responds to their pleas, codified as dance steps, twists, jumps and screams. Sherrin has performed live all over India, Dubai, Abu Dhabi, Singapore, Hong Kong, Indonesia, Malaysia, USA, UK, Milan, Barcelona, Canary Islands, etc. Enraptured by visions of far away lands via his mystical intonations, we are super excited to present this artist who is so influential and inspiring.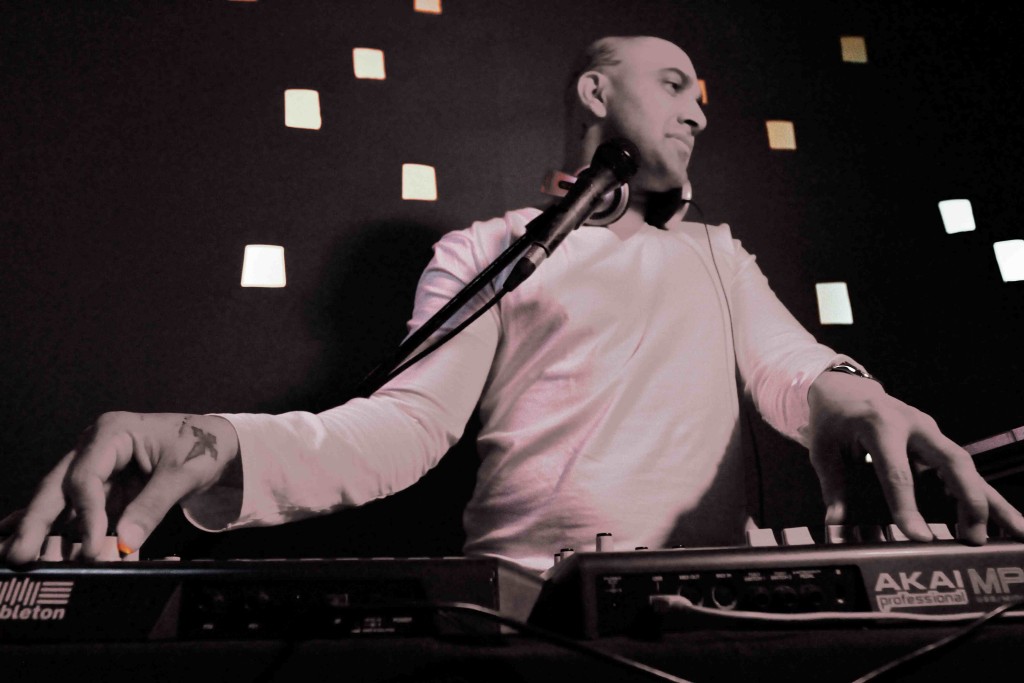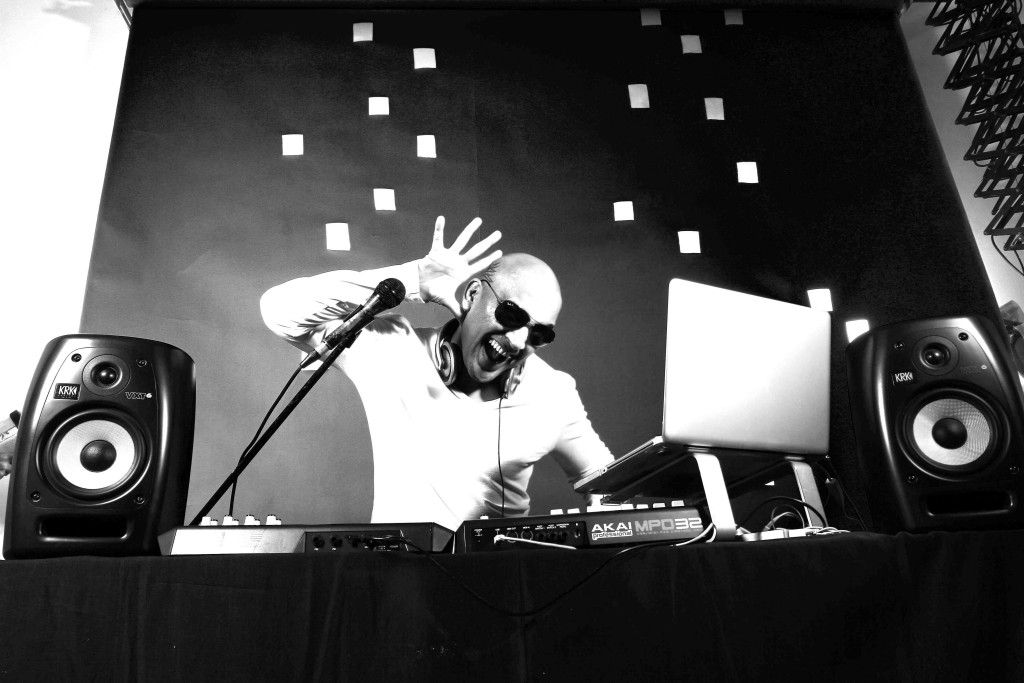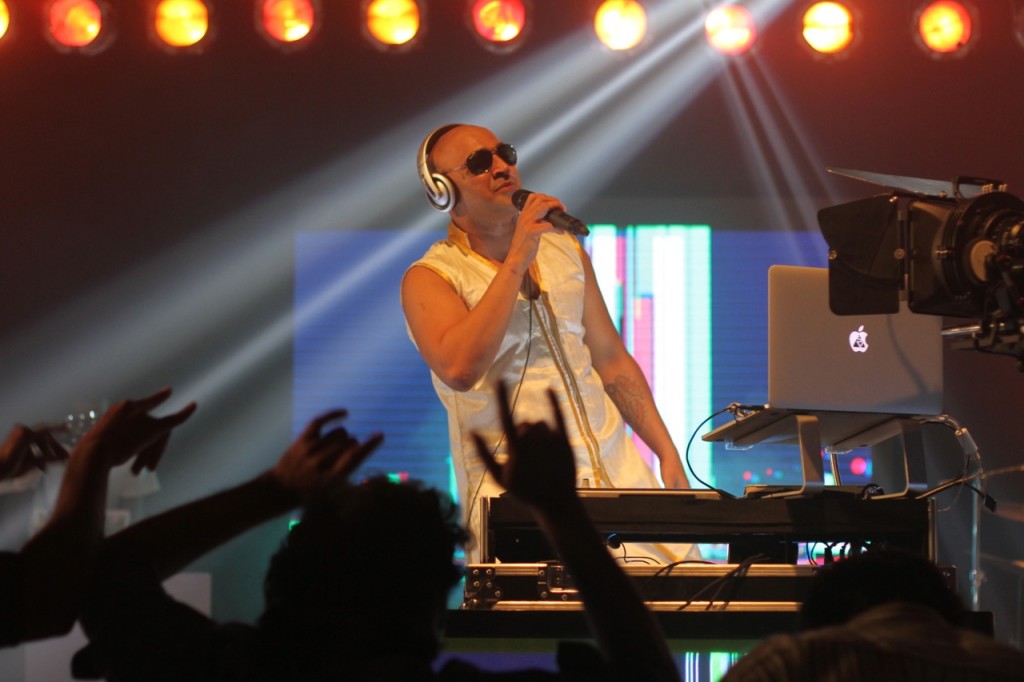 What really strikes me is your stage presence. Anybody that has seen you perform live knows that you've got such a commanding presence. Where does that confidence come from?
The confidence that you see stems from the fact that I'm perpetually doing something new on stage and there is a 100 % chance of it all going wrong. So to avoid any mishaps, I'm always concentrating & projecting a lot more than normal & generally at my wittiest and charming best. So the commanding presence is actually a hyperactive child very worried about not forgetting to do certain things while making it look like fun. Some could also say that since there is no precedent to what I do, as any mistakes can be easily masked as part of the act. Wink!
At what age did you begin singing?
Honestly I don't exactly remember when but maybe when I was 8 or 9 years old. Growing up music was an integral part of me at school, church & the choir and we've been singing in parts as long as I can remember. In fact I remember the choir master moving me from alto to tenor after my voice broke and he kept me onto the alto for a long time even tho I felt I was ready for tenor. Little did the cocky me know then that tenor notes requires a certain maturity in the voice.
Who or what inspired your love for music?
Music has always been around. Never looked at it as a profession, cos in those days music was not something that one could make money off, and definitely not a reliable profession, so I was doing what every smart kid in my batch was doing then, pursuing medicine or engineering. I chose the latter, cos I had a technical bent of mind. Finished my Diploma and I was doing my degree in Mech Engg., when my interest towards Rock music started developing and suddenly all those years of singing seemed like an easy way into fronting some cool college rock bands. Amateurishly pursuing the pop-rock way of life and winning a few hearts and competitions, along comes the second international concert in my life on April 15th 1995, where Michael Jackson lands up in Mumbai with 400 tonnes of equipment. That really got me and I was intrigued and curious to see what this showman would bring into town which I haven't seen yet. I really loved his songs and he was a great performer, so I moved the earth to make the 1500 rupees for the ticket. Since I was not earning and my parents were definitely not gonna give me the money, I stole a couple of tyres from a ditched maruti vehicle and sold it for 600 rs. Stole a case of cokes from a delivery vehicle and sold it for 250 rs. Borrowed 300 bucks from my then girl friend and now wife and seeing my maddening enthusiasm, the rest my mum pitched in. I remember how electric the air at Andheri stadium was that evening & after waiting with bated breath for the man, he arrives with the whole rocket entry thingy & the crowd goes hysterical & in that maddening atmosphere, I heard a gujju screaming behind me.. "Milan bhai.. Pandhrah sow vasool thai gayu!". That's when I realized the power of music and the effect it has on people and right at that moment my hard disk was rebooted and all I remember from that point is that I wanted to be like him.. a singer, composer, producer & an entertainer.
When did you write your first song and what was the title? 
The first song that I wrote was in college during my rock band days & was titled "L'il Sister". As the title says it was about my little sister who had her own tryst with destiny, as she was blindly following my Rock 'N Roll path. My folks were very worried about her as she rebelled very badly against the system & couldn't come to terms with the freedom that I enjoyed as a boy vi-a-vis, she as a girl in society then. So I did what I did best, I wrote a song about it. She of course moved on from adolescence and is now a hot beaming mother of the coolest niece anyone can ever have. In fact this song also later on made it as a single on a compilation album produced by my friend Claver Menezes the bassist & my band mate from The Rubber Band on Movers & Shakers.
Do you prefer a specific genre of music over any other genre? If so what genre and why?
As a musician and a jingle producer, I have to be adept in any colour in music, so there's no love lost for any specific genre except terrible Hip- Hop. Personally for me in today's date & time, if I look at consumer oriented independent electronic dance music, then there are 2 broad categories which stand out. One which is meant for the dance floor and one where your brain is supposed to be on the dance floor. All commercial EDM with it's subgenres like Electro, Complextro, Progressive, Psy, Techno, Tech House, Deep House, Glitch-Hop. Grime, Trap etc, fall under the former while some of the less busy/noisy genres like [idm], deep tech, ambient, minimal, tech prog, organic electronic, etc fall under the latter. In the ever evolving fight between tracks & songs, where increasingly dance floor music now is about some random couplets thrown in on a 4/4, dominating the loudness war & the quieter ones struggling to find something intimidating to the brain to latch onto, I prefer the ones which you can't slot, like a hybrid, live, organic electronic environment where there is a fair amount of vocals in a song structure with cascades which only electronic music can develop, while luminous bass lines supported by glitch orchestral parts flow in and out in arrhythmic counts. Sounds complex.. ? Check out BT's Electronic Opus.
When you write a song do you follow any type of writing technique?
I prefer the age old technique of writing the lyrics first and then composing it. Pretty often the song gets lost as soon as you start putting the music side by side or writing the arrangement first. Not that it does not work, but in my personal opinion and taste, a song has to first work acoustically just on a snap count. Form follows function in my case, as only after a song is complete lyrically, do I move onto putting any kind of arrangement. If the song works acoustically then technically one should be able to fit it in any genre if the need be. Also in a song the thought is always which matters first, so if it's well written, then for a good composer the song just flows. There have been instances where Shankar Mahadevan has composed a song in under 10 minutes upon a first read of Javed Sahab's lyrics.
What are some challenges you have faced, if any, in the creative process, and how have you overcome them?
The biggest challenge all musicians who run studios & produce music is in the ad film industry servicing TVC's in India. It's extremely frustrating when a client does not know what he or she wants and changes the goal post while the work is in progress. In the advertising industry there is a chain of command and a pecking order. It's first the client, then the agency, then the production house & then the musician. In most of the cases, the client is clued in, only in bits and pieces as the bulk of the thinking is done by the agency which thinks up a creative of the campaign and then hires a production house to execute the film which then hires musicians like me to render the music for it. Sometimes in this large chain of command, a brief gets misinterpreted by someone and the whole thing has to be done again, or sometimes the agency & the production house love the track and the client dismisses it. Sometimes the agency, who okayed a certain direction of the music by mail, rubbishes a track after I've spent a whole night on it cos he/she hasn't slept well or had a fight with their senior. So there is a huge human involvement where the presentation of a track for the first time to the client or the agency needs to be done in a pampered environment with every whim and fancy of the client / agency / production house taken care of. Earlier on in my career when I used to mail a scratch, they used to always get bounced as they'd feel that their jobs are not justified till they have touched the tweak button, and sometimes lay absurd stupidity that arises from these tweaking's are somewhat the global pitfalls one has to face creatively when servicing ad films. The worst is when the 1st draft which was trashed by the agency or the client suddenly becomes the hit number after making us produce some 4 versions of it. Musicians when producing look for that one distinctive newness in a track which generally comes in the first go and that newness sometimes is rejected because it's not understood. Apart from that there are some occasions where the client stupidly insists on putting in their company's name in the middle of a song. Though it's an interesting challenge to then come up with unique ways of making the brand name a sound which does not jarr the rest of the song/track, it can get daunting sometimes.
What are some things that influence you as an artist? Musicians, art, philosophies, etc.?
Art is reflective of society and the current political & religious turmoil going on in the country influence me quite a bit. Philosophies not so much as I prefer Spirit science compared to hand me down thoughts.
Do you have any specific goals set for yourself this year? (music related or other goals).
I have a couple of goals set for me this year.
Expand the singing and spinning in clubs to one gig every week as I've just exploded on to the scene as a DJ and the diners, resto-bars, restaurant owners & club agents seem to like me singing and spinning which is unheard of & seems to fancy everyone well.

Release my rain song "Baadal" on June 1st on MTV Indies as my resurrection in Indi-pop & kick start what hopefully would be a great second innings in my independent music career as an artiste.

Have sung for a couple of Bollywood films, hopefully they'd release and the voice would get the love and attention that some of the well deserved, recent talents have gotten.

Capitalize on my debut into Malayalam cinema as an actor on Lijo Jose Pelliserry's magnum opus "Double Barell" with Prithviraj, Indrajeet & a whole bunch of cool artistes from the south, in the end of .

Release my album "Dravidian Bass", in the south immediately around the movie to ride on the wave and hopefully travel once again to all the NRI malayalee corners of the world painting happy faces.

Release material with my Live electronica band "The Liquid Bass project" by the year end.
What can you say about the electronic music scene in Mumbai? Has it had a part in shaping you as an artist, and if so, how?
Oh yes and how.. In my initial days of trying to understand what is it that I want to do with my career after ABOB died out, I spent a lot of time trying to understand why we died out, when we were such a successful model for 10 years. There were multiple reasons like no more new releases, TV suddenly not playing Indi-pop anymore, Bollywood's omnipresence, everyone doing their solo bit, gigs going down, band members not seeing eye to eye, etc., So in my attempt to look for a market which has a more sustainability I cracked down upon the DJ market as the ones like an Akbar Sami or a Whosane!, who started with us or even before us were still going strong and are still going strong even today, whereas everyone from the golden era of Indipop like a Lucky Ali, Adnan Sami, Suneeta Rao, Euphoria etc, were all going down. And then it struck me that Dj's will always have it going good, so with my love for electronic music I hung around all the gigs that Mumbai had to throw and figure out what makes a party tick, learnt the craft of reading a room and understanding the vibe created by a minimal vis-à-vis a banger track. Then I spent a while learning the softwares needed to produce Electronic dance music as well as to perform them. After a while the pop histrionics took over and then it suddenly dawned on me that I'm not just a DJ but I can sing as well, so I started producing tracks and sets and putting together a live performance rig which lets me sing and spin. This whole journey took me 5 years and now I've reached a stage where I can proudly say that I'm pioneering the organic electronic craft in the country at the moment with my Live Electronica modular set up and that's how the Mumbai electronic music scene has shaped my present career.
How would you describe your daily life?
On the days that I'm not travelling, gigging, meeting.. this is how my typical day goes…
9:00 am – Get up
9:30 am – Breakfast & bye bye to wife (work) & son (school)
10:00 am – Riyaaz
11:00 am – Switch on studio.
11:00 pm – "Baby you're back already?!?"
What can your fans expect next?
A global malayalee singing, acting and performing a lot like I 've been doing for the past 15 years.
To know more about the dynamic performer Sherrin Varghese, his music, the confidence he brings to his performances and the way he embraces his unique style as he sings and spins into action, stay connected to him on:
Facebook:http://www.facebook.com/SherrinVarghese
Twitter: http://twitter.com/sherrinvarghese
Soundcloud: http://soundcloud.com/sherrin
YouTube: http://www.youtube.com/Sheerrean