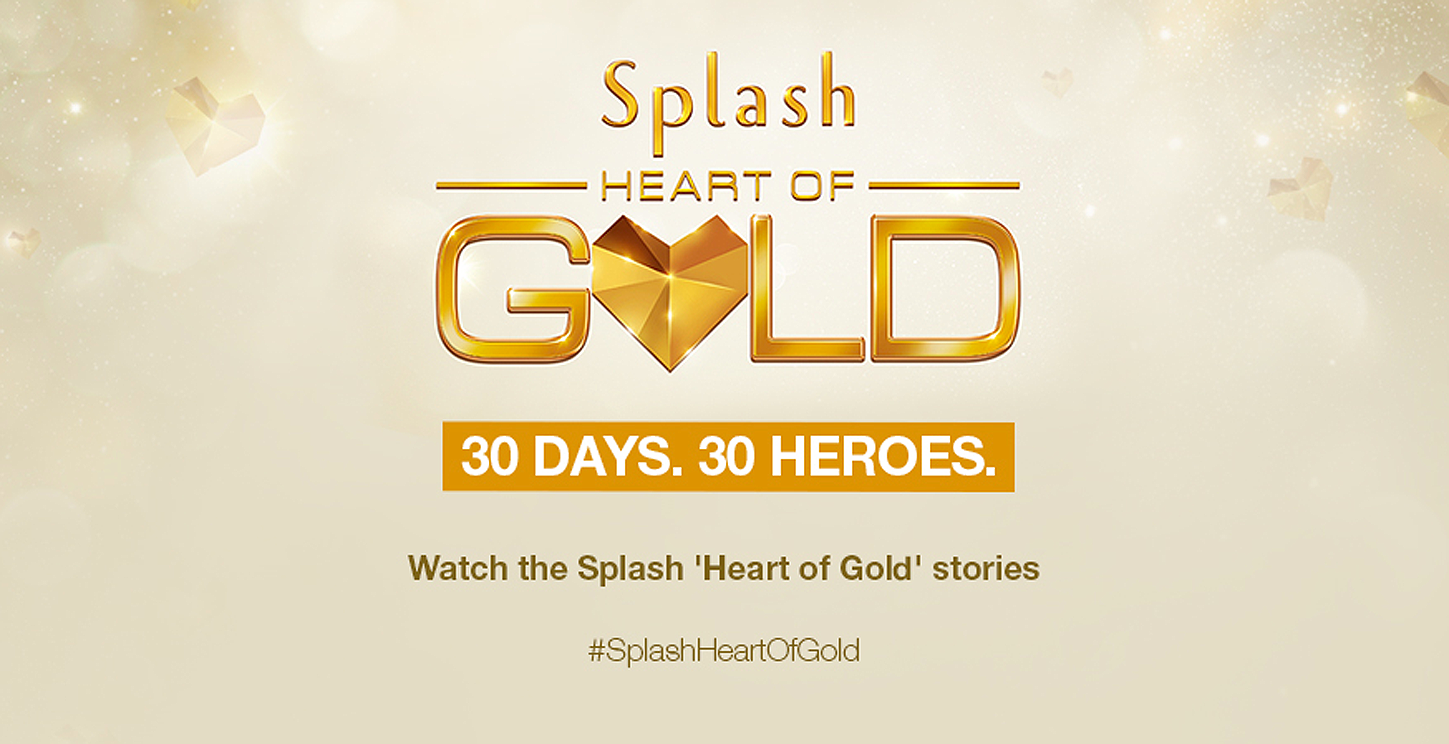 Ramadan Mubarak Everyone!!
I've always wanted to write about unsung heroes and I found that as I collected my thoughts and browsed on for information, my eyes caught upon one of the most welcoming broadcast (or as I like to call it "shoutout") messages sent to me about the nominees of the Splash "Unsung Heroes".
All eyes on the humanitarian initiative SPLASH connecting hearts!!
Once rooted in tradition and strengthened by the quest for awareness, the seedling of the initiative of Splash grew into a mighty Golden Heart. It illuminates what is going on around us, it allows colours, scenery and faces to come to light when we look at them.
Splash presents a Heart of Gold each day during The Holy month of Ramadan to individuals exhibiting commitment, compassion, courage, care and extending their helping hands without expecting anything in return. One of the most extolled virtues of all time is selfless service to others, without thought of personal gain. It is one thing to drop a coin into the hat of a homeless person you happen upon, but it's quite another to devote your entire life to assisting the homeless or volunteering for similar selfless services and causes.
These often unsung heroes are shining examples of extraordinary people triumphing against all odds to give off their best, making enormous sacrifices of time, energy and resources to assist others, way beyond what they may receive in return. They are known for their style, spirit, soul and passion but most of all their collective heart, the Heart of Gold…..Priceless!!…..Helping us build a world where everyone can love and be loved. They desire to preserve the Faith in all its purity and humanity. Therefore the fullness of the union of all rights and privileges, love and care stems through the hearts of our unsung Heroes.
One's life does not consist on the abundance of things he possesses but in the richness of his heart. For where your treasure is, there your heart will be also. The lamp of the body is the eye and the flame that keeps its light is the Heart…the Heart of Gold!
The Unsung Heroes to me will always be the ones who do what the masses won't!
Congratulations to all the recipients of the Splash Heart of Gold and wishing you all the best in your present and future endeavors!
Take a watch of one of the many such super adorable, caring individuals, Safia Bari, nominated by Raza Beig the CEO of Splash, who is no less an inspiration and a super spirited human being himself:
The list of nominees of the Splash Heart of Gold so far are:
Arlene Sara Renjen
Safia Bari
Desiree Baker
Anum Choudhry
Nahida Khan
Safdar Chowdhary
Justin Keenan
Inderjit Singh
Vijay Nagendar Rao
Vonita Singh
Vaishali Thaker
Rajiv David
Nitin Naik
Ernesto Payumo
Ashraf Thamarassery
Aishwariya Joshi
Harmeek Singh
Tune in to Splash Fashions Youtube daily to view these unsung heroes and their selfless service to the world or watch the playlist below to view all the videos so far:
Catch STYLE HEURE on: